Return to Headlines
RFH Alumni Return for Panel Discussion
RUMSON-FAIR HAVEN REGIONAL HIGH SCHOOL
74 Ridge Road, Rumson, NJ 07760
732-842-1597
FOR IMMEDIATE RELEASE
January 2019
RFH Alumni Return for Panel Discussion about College Life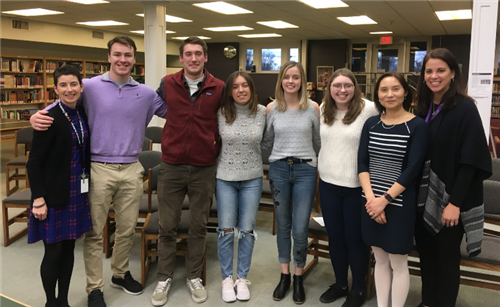 Left to right: Christine Berg (French teacher), Jack Woods (panelist), Sam Sapnar (panelist), Maisie Sapnar (panelist), Camryn Pecyno (panelist), Bethany Parsons (panelist), Rebecca Wang-McKenna (Chinese teacher), Christina Gauss (Spanish teacher)
This past Thursday, former Rumson Fair Haven High School alumni returned to speak to current students about the skills that are necessary to succeed in college. Panelists Bethany Parsons, Camryn Pecyno, Maisie Sapnar, Sam Sapnar, and Jack Woods spoke of the challenges in transitioning to college from high school, the skills they found to be helpful in this transition, and skills they wished they had acquired prior to leaving for college. The event, originally the idea of RFH Chinese teacher Rebecca Wang-McKenna, was sponsored by the World Language Department with the goal of helping and encouraging current students to develop good habits and the proper mindset for success while still in high school. The panel discussion saw over 100 students of various grade levels attend, as well as a number of teachers.
The alumni panelists were asked four questions during the session and had a good deal to say. In response to the question "How has taking ownership of your work allowed you to achieve what you have done with your studies?" panelist Sam Sapnar responded "I think that the opportunities provided by college to select your own schedule and zero in on subjects about which you are truly passionate facilitate not only your ability but also your desire to take ownership of your own work. It is these opportunities that really enrich your educational experience by allowing you to investigate intricate subtopics of larger subjects of interests, creating an environment in which attending class is no longer an obligation, but truly a privilege. This is something that all current candidates for graduation have to look forward to as they begin their time at their respective universities."
At the end of the discussion the panelists were asked if there was any other advice that they would like to offer the students in order to be successful in college. Bethany Parsons offered her insight. The senior at Duquesne University stated, "Be open. To new people, experiences, challenges, and downfalls. It's an incredible opportunity and privilege to attend a school, no matter where you go or what you do. You learn a lot about yourself and the world and how you fit into it, but I've noticed the people who are doing the best/being their best selves are the ones who are open to trying-and failing- in new experiences. Also, know your strengths and your weaknesses and ask for help when you need it, because I guarantee you aren't alone."
The alumni acknowledged the relevance of the event.. Camryn Pecyno said, "I'm so happy RFH put together a panel such as this one. I wish I had heard something similar before attending college!" This is an advantage that current RFH students have. Events like this show the importance of giving back to the community and opportunity to educate future generations through their peers. Chinese teacher Rebecca Wang-McKenna had one last thing to offer in response to the panel: "Having a high quality college education is a top priority for many of our students. Our job as teachers is to help them achieve this. Inviting RFH graduates to come back to talk to our students is one way to bridge the transition and to help our students thrive both now and beyond RFH. " The goal of each teacher here at RFH is to ensure our students are getting the best education and are achieving at a high level. Bringing former students back to reflect on their experiences in school allows current students to gain insight that they might not have received otherwise. An event like this shows the strength of the RFH community and creates an environment that promotes success through this community. One can see that there are more opportunities for learning than just in the classroom.
For more information contact: Christine Berg and Rebecca Wang-McKenna @ cberg@rumsonfairhaven.org & rmckenna@rumsonfairhaven.org
About Rumson-Fair Haven Regional: Rumson-Fair Haven was recognized as a 2011 National Blue Ribbon School by the US Department of Education. The high school, accredited by Middle States Association of Secondary Schools and Colleges and the NJ Department of Education, is a comprehensive high school of approximately 1000 students in grades 9-12. Consistently over the years, more than 95 % of our graduates have attended post secondary institutions.