Return to Headlines
RFH Students and Staff Mark COP25 UN Climate Change Conference
FOR IMMEDIATE RELEASE--<<TUESDAY, DECEMBER 17, 2019>>
RFH Students and Staff Mark COP25 UN Climate Change Conference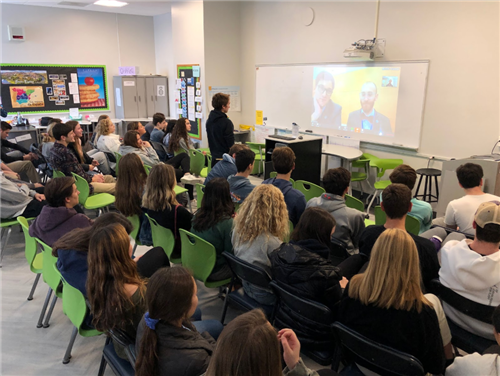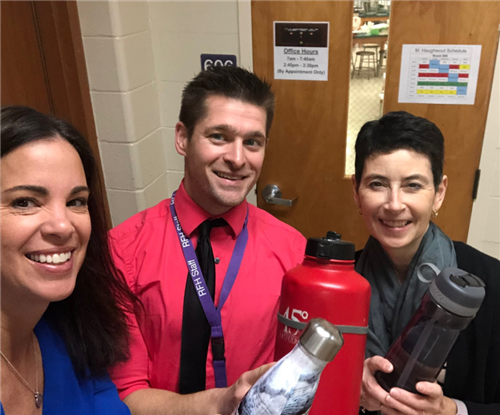 RFH students and staff participated in a week of activities designed to coincide with the United Nations Climate Change Conference that was held in Madrid, Spain from December 2-13.
The opening event took place on Friday, December 6th with RFH students participating in a video conference call with Yale graduate students attending COP25. Students from French, Spanish, and Environmental Science classes conversed with the Yale students about such issues as the benefits of being able to communicate in a second language when attending an international conference and details about the progression of the climate change negotiations between member delegations.
Throughout the following week, students participated in daily environmentally-themed challenges and were encouraged to take selfies of themselves to post on social media platforms using the hashtag #RFHCOP25. The challenges included bringing a refillable water bottle to school, taking the bus or walking to school, bringing lunch in reusable containers, dimming or turning off the lights in classrooms, and taking a walk outside after school. There were also daily trivia questions on the morning announcements each day with prizes awarded to the first student with the correct answer each day.
The events of the week were coordinated by French teacher Christine Berg, Spanish teacher Christina Gauss, and Biology and Environmental Science teacher Michael Haughwout.
Christine Berg stated, "The activities to commemorate such an important issue and event are great examples of the types of interdisciplinary approaches that enable students to connect their learning to real-world events and to participate in social activism in a positive way."
For more information about RFHCOP25, contact cberg@rumsonfairhaven.org, cgauss@rumsonfairhaven.org or mhaughwout@rumsonfairhaven.org.
FOR ADDITIONAL INFORMATION, PLEASE CONTACT-
Sarah Fitzgerald, RFH Press Release Writer
sfitzgerald@rumsonfairhaven.org or 732-842-1597 x. 277