Return to Headlines
RFH Tri-District Music Festival
FOR IMMEDIATE RELEASE--<<MONDAY, MARCH 9, 2020>>
Rumson and Fair Haven Musicians Perform at the Tri-District Music Festival
The annual Tri-District Music Festival took place recently at Rumson Fair Haven High School and what a night it was!. On February 19th, 2020, music directors and student musicians from Knollwood, Forrestdale, and Rumson-Fair Haven Regional High School came together to perform for a large audience of community members. Students rehearsed the repertoire at their own schools for the month leading up to the concert with their respective directors and teachers, John Lebitsch and Barbara Leutz from Forrestdale, Sara Marino, Mel Chayette, Leanne DeCamp and Amanda Eider from Knollwood, and Zach Lorelli and Kathryne Singleton from RFH. On the day of the concert, members of the bands, orchestras, and choruses from each school, ranging from 4th through 12th graders, came together in the RFH auditorium to rehearse in the morning for a few hours and to mesh their diverse musical talents. Later that night, students returned to RFH to perform for the community in what was a truly collaborative and impressive show! This tradition has been carried on for over fifteen years now.
The Tri-District Music Festival is special for a number of reasons. The rehearsal process provides younger students with a sense of comradery that ultimately makes transitioning into the high school music program less intimidating. In addition, the final performance allows students to experience what it is like to perform their music with over 100 other people, an experience not many musicians get in their lifetime! Mr. Seth Herman, RFH's Supervisor of World Language and Fine and Performing Arts best summarized the importance of the Tri-District Music Festival, "It has been a pleasure to watch this tradition grow, and watch the community and connections strengthen along with it." Student musicians from the neighboring towns of Rumson and Fair Haven, and their music directors alike, are extremely proud to have been part of such a wonderful night that and without a doubt, demonstrated the "harmony" coming out of the peninsula!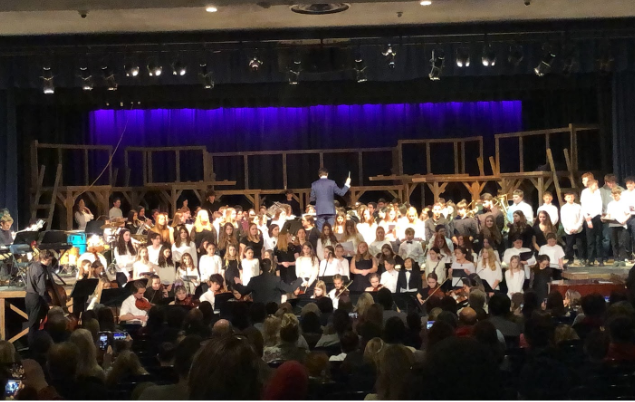 Over 100 students from Forrestdale, Knollwood and RFH perform together at the annual Tri-District Music Festival.
FOR ADDITIONAL INFORMATION, PLEASE CONTACT-
Sarah Fitzgerald, RFH Press Release Writer
sfitzgerald@rumsonfairhaven.org or 732-842-1597 x. 277