Return to Headlines
RFH Names Kevin Pfister Principal
Rumson-Fair Haven Regional High School Names New Principal
Kevin Pfister was approved as the next principal for Rumson-Fair Haven Regional High School on Tuesday, July 28th, according to Superintendent Debra Gulick. Pfister is currently the acting principal at Mountain Lakes High School in Morris County. He started his career at RFH as a teacher of mathematics before serving as Assistant Principal/Supervisor of Co-Curricular Activities at Mountain Lakes High School. His appointment concludes a principal search process that began upon notice by Dr. Tracy Handerhan of her resignation this past May. Dr. Handerhan served as the Principal at RFH for 13 years before her appointment as the superintendent of Wall Township School District. The search included the input of the community, parents, students, and faculty. After reviewing dozens of applications, a comprehensive multi-round interview process took place. According to Mrs. Gulick, "It was clear that Mr. Pfister would bring a fresh outlook to RFH. During the search and selection process, in addition to his passion for RFH, Mr. Pfister consistently demonstrated that he is a creative problem solver, a hard worker, and makes great connections with students and parents. I look forward to partnering with Mr. Pfister to continue to write RFH's next chapter of success." Mr. Pfister will join the RFH team early in the school year.
Pfister holds a master's degree in Educational Leadership and a bachelor's degree in Mathematics. Besides teaching, Pfister also served as a coach, and advisor during his tenure at RFH and is excited to rejoin the school community. "It is an honor and privilege to return to Rumson and Fair Haven as the next principal at RFH. I look forward to reconnecting with the dedicated students, families, staff, administration, and community members that make the RFH school community so special."
In all of his previous roles, Pfister has modeled the highest standards of honesty, integrity, fairness, and ethics for all students. He has demonstrated his passion for student-focused pedagogical strategies in the classroom and as an instructional leader. In so many ways, Kevin Pfister embodies RFH's "Commitment to Excellence" and the RFH Board of Education looks forward to his return and a successful, though untraditional, school year. Go Dawgs!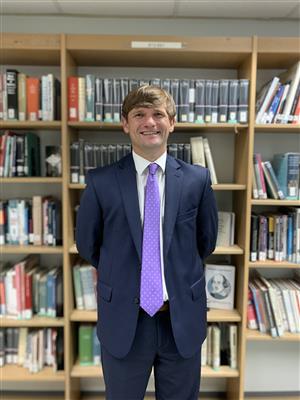 Kevin Pfister was appointed as Rumson Fair Haven Regional High School's new principal.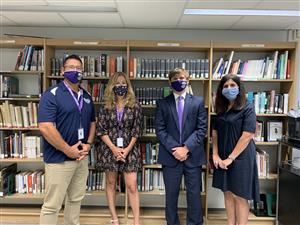 RFH Athletic Director and Interim Principal, Chris Lanzalotto, Board of Education President, Annie McGinty, Kevin Pfister, and Superintendent Debra Gulick (l-r) are pictured after Pfister's appointment at the Board of Education meeting on Tuesday, July 28th.
FOR ADDITIONAL INFORMATION, PLEASE CONTACT-
Sarah Fitzgerald, RFH Press Release Writer
sfitzgerald@rumsonfairhaven.org or 732-842-1597 x. 277