Return to Headlines
RFH Tower Players Present:
RFH Tower Players Present Shuddersome: Tales of Poe
On November 20, 2020, the Rumson-Fair Haven Regional High School Tower Players will virtually release their Fall Drama, Shuddersome: Tales of Poe, in a medium new to almost every cast and crew member. Shuddersome, adapted by Lindsay Price, portrays an imaginative, theatrical interpretation of four of Edgar Allan Poe's most disturbing, haunting, and chilling short stories: "The Tell-Tale Heart," "The Oval Portrait," "The Raven," and "Masque of the Red Death." In the play, the audience watches as a young teenager (Evan Callas), fascinated by the stories of Poe, becomes enthralled with the gothic writing, and slowly transforms into Poe himself.
The Tower Players are led by director KasiAnn Sweeney, assistant director and play production coordinator Susan Schuld, technical director Matthew Leddin, choreographer Jennifer Romano, and costumes and props director Catherine Cleary. In light of safety protocols in place due to COVID-19, the rehearsal process this year looks a little different than it used to: the stage has been replaced by a screen, and all performances now occur within the homes of each student. In addition to this new format, students have also taken on production and directorial roles this year, namely film editors, technical supervisors, music supervisors, and props masters. Spearheaded by lead artistic directors Isabella "Bella" Sciortino and Aidan Herman along with their team of student directors, rehearsals focus on character development and technological troubleshooting, rather than blocking and choreography. In order to create the ultimate show, student actors record each of their scenes, student editors put the scenes together, and the artistic directors ensure the cohesion and integrity of the big picture.
While this year's Fall Play will look anything but traditional, Shuddersome: Tales of Poe is sure to wow viewers with the same quality of performance that has come to be expected from the Tower Players. Shuddersome: Tales of Poe will take place via a pre-recorded stream on November 20, 2020, at 7:30 pm. You can watch the pre-recorded virtual stream here. If you miss the initial stream, don't worry, you can watch the recording here. Don't miss it!
(pictures below)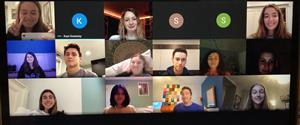 The cast and crew of the "Masque of the Red Death" work hard from all angles to put the show together! Pictured (l ro r): Lilly Light, Molly Kenney, Bella Sciortino, Lainie Lombardo, Tyler Izzo, Jamie Eckhoff, Aidan Herman, Gemma Formisano, Ava Bruno, Mackenzie Doherty, Giuliana Ming, Matt Reulback, and Sarina Moore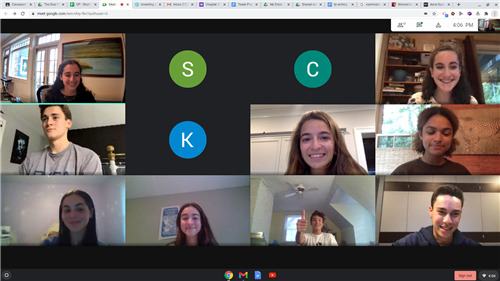 The cast and crew of the "Oval Portrait" may be smiling, but they are hard at work preparing to film/direct/edit their scenes. Pictured (l ro r): Hailey Blum, Sophie Barabas, Tyler Izzo, Bella Sciortino, Quinn McManus, Ali Gagliardi, Alex Fratto, Evan Callas, and Aidan Herman
FOR ADDITIONAL INFORMATION, PLEASE CONTACT-
Sarah Fitzgerald, RFH Press Release Writer
sfitzgerald@rumsonfairhaven.org or 732-842-1597 x. 277