Return to Headlines
RFH Grad Charlie Volker Earns Spot on USA Bobsled Team
Former RFH Football Standout Tackles New Adventure
Former Rumson Fair Haven Regional High School football and track star, Charlie Volker, has laced up different spikes five years after leaving the halls of RFH to take his speed and skill to the ice. The All-State and All-Shore running back and sprinter took on a completely new challenge this past summer when his post-college plans to try out for the NFL were paused due to COVID-19. As Bulldog fans have come to expect from the standout student and athlete who went on to continue his academic and athletic career at Princeton University after graduating, Charlie threw his hat into a new ring, bobsledding, and has had immediate success!
Volker capped off his amazing athletic career at Rumson Fair Haven with 3955 career rushing yards (3508 total yards and 42 touchdowns during his junior and senior years), two CJ Group 2 State Football Championships and a victory in the 100-meter dash at the NJSIAA Track and Field Meet of Champions. He was spectacular in the classroom as well and a spirited and integrity-filled role model for younger students. Vice Principal of Athletics and Student Activities, Chris Lanzalotto recalls, "Charlie was one of the hardest working student-athletes we have ever seen here at RFH, on and off the field. I am extremely proud of all he has accomplished and cannot wait to see him represent our country on the USA Bobsled Team." Volker went on to attend Princeton University where he continued to excel academically and athletically, as a two-sport athlete (the same two sports in which he made his mark as a Bulldog), graduating in 2019 with a degree in history. Volker's entire family, two sisters, Emily and Megan, brother John, a current senior who has made his mark at RFH in his own right and who will follow in Charlie's footsteps by attending Princeton University next fall, including his parents, attended RFH and Fair Haven is lucky to call them theirs.
COVID dashed Volker's hopes of landing on an NFL roster this past year while he was training at TEST Football in North Jersey. Out of that disappointment came excitement and opportunity thanks to Chris Enslen, one of Volker's training coaches and a former bobsledder, who felt that Charlie had what it takes to make the switch to the Olympic sport. Since he loves a good challenge and had just spent three months training speed and strength, Volker completed the online combine (a 40-yard dash and a broad jump) for the USA Bobsled/Skeleton Team and garnered attention. He was invited to the Olympic & Paralympic Training Center in Lake Placid, New York to try out at team trials. There, Volker got a crash course on the sport and this past December successfully earned a spot on the US National Team.
Volker rides in the "brakeman" position, the very back of both two and four-man sleds, and the position responsible for pulling the brakes at the end of the track to slow the sled on the finish ramp and he seems to be relishing this new role, "It's a very fun position because, like being on the back of a rollercoaster, you really feel every one of the 5Gs that we're pulling on the Lake Placid track. It's also very challenging because it beats you up a bit after a few runs, and the brakeman has to try his best to stay as low and locked in as possible." When comparing his new sport to his old one and reflecting on his new undertaking, Volker explains, "The actual sledding/sliding itself is a rush just like football is, and I'd call myself an adventure seeker. But more than that what I like most about it is being on a team with some great people. A lot of these guys and girls (on the women's team) are incredibly high achievers and just great people. I was surprised at how nice and welcoming everyone was to me upon introduction."
Though a change in course has prevented Volker from traveling to train and compete in Europe as originally expected, he is excited to spend the next two months competing in the North American Cup and to compete in another National Team Trials in March to prepare for the elongated Olympic year. Volker expects a short summer break before training next fall to compete in the World Cup next winter leading right up to the Olympic Games in Beijing in February of 2022.
Volker is quick to credit his newfound bobsledding success to the important lessons learned as both a Bulldog and a Tiger, "At RFH and Princeton I learned to carry myself proudly but humbly. Doing this off the competitive field or track was just as -if not more important than- off the field. These institutions have always valued hard-working and respectable people and I was lucky enough in both settings to be surrounded by many of these people from whom I modeled my own behavior." He also gushes about his family, "They've all been very supportive of this journey and when I called home telling them I made the National Team, they started yelling the lyrics to "Proud to be an American"!"
No doubt that past, present and future Bulldogs will all don their purple and white proudly to support Volker in his new endeavor and will cheer loudly as he continues to compete for an opportunity to take his athletic skill and mental toughness to the next level, the Olympic stage. Regardless of what the future holds, Volker is already incredibly thankful for the experience he has gained, the people he has met and the memories that he has made in only a short time. With so much negativity throughout 2020, Volker has found and given the RFH community something amazing to look forward to as they embark on 2021, "The most challenging part of the past year has been finding an opportunity like this. I'm someone who needs a goal to work towards and I was at a point this year where I was jobless and pursuit-less and that was very tough for me. Thankfully I have a strong support system in the form of family, girlfriend, friends, coaches and teachers who I was able to reach out to for guidance. I'm looking forward to everything this opportunity has to offer. I can't wait to experience and learn from all of it!" Regardless of which type of spikes and colors Charlie Volker wears to compete, or wherever he eventually ends up, he will always be Bulldog at heart and we couldn't be prouder!
(images below)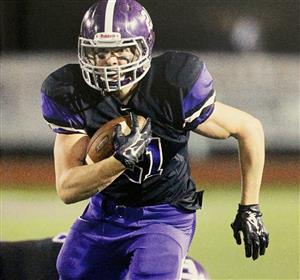 Charlie Volker on the field for RFH during his senior year of high school.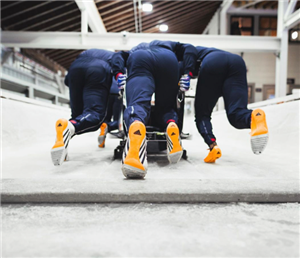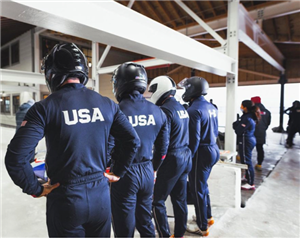 Charlie Volker trains (pictured in his white helmet and in the center during the push start, further above) at the Olympic & Paralympic Training Center in Lake Placid, NY.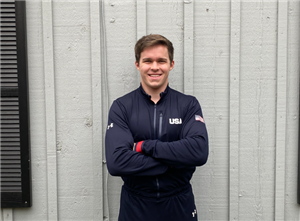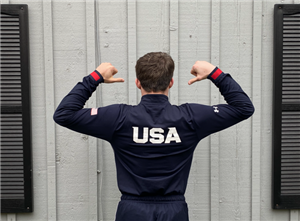 Charlie shows off his new patriotic attire after being named to the USA Bobsled National Team in December of 2020.
FOR ADDITIONAL INFORMATION, PLEASE CONTACT-
Sarah Fitzgerald, RFH Press Release Writer
sfitzgerald@rumsonfairhaven.org or 732-842-1597 x. 277