Return to Headlines
FOR IMMEDIATE RELEASE--<<FRIDAY, MAY 21ST, 2021>>
Rumson Fair Haven Senior Artists Say Goodbye with Final Show
Twelve senior artists from Rumson Fair Haven Regional High School had their final hoorah last month as their artwork was showcased and sold at The Guild of Creative Art in Shrewsbury. In what has become an annual tradition for the 12th grade art students in the Fine & Performing Arts Department at RFH, a culmination of all of their hard work, development, creativity and skills was on full display for the local community, family and friends from April 20th through April 27th, 2021. This year's Senior Art Show, overseen and curated by veteran RFH art teachers, Kristen Lanfrank and Kate Okeson, was kicked off by an opening reception that welcomed viewers with approximately 75 pieces of original artwork.
The artists showcased are a testament to the rich experience that the Art program at RFH provides. Currently enrolled in a variety of courses, Design and Visual Thinking Honors, AP Studio Art, Portfolio Design Honors, and Advanced Ceramics, all twelve students (listed below) have had the chance to explore their interests and find their passion under the tutelage of RFH's art teachers, Lanfrank, Okeson and Ceramics teacher, Zachary Wilson. Many plan to continue their study of art after graduation. Supervisor Seth Herman shared the excitement of the school community, "We are thankful to Ms. Lanfrank, Ms. Okeson, and Mr. Wilson for putting this together, as well as The Guild of Creative Art for lending us the space. We are proud of our senior artists and glad they had the opportunity to display their culmination of four years of intense study." As always, current and past Bulldogs are beaming with pride over the talent and accomplishments of these budding artists and can't wait to see their future work hanging on the walls of galleries for years to come.
CeCe Arko-Drawing and Painting, The Ohio State University
Chris DeSantis-Ceramics and 2D Art, Brookdale Community College
Lauren DeSantis-Ceramics, University of Delaware
Lydia Enstrom-Drawing and Painting, Pratt Institute
Isabella French-Jewelry Design and Drawing, The Savannah College of Art and Design (Savannah)
Zacherie Gross-Painting and Digital, School of the Art Institute of Chicago
Dylan Herman-Ceramics, West Virginia University
Jaden Lanfrank-Photography and Film, The Savannah College of Art and Design (Atlanta)
Tilly Morris-Drawing and Painting, Colgate University
Sarah Neczesny-Drawing and Painting, Gettysburg College
Megan Pirecki-Painting, Rutgers University
Gaven Shanley-Illustration and Animation, Undecided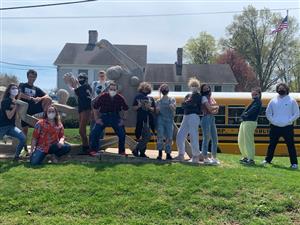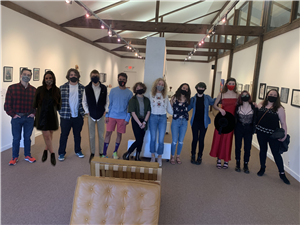 RFH senior artists pose with their artwork and outside of The Guild of Creative Art is Shrewsbury as they prepare for the annual Senior Art Show.
FOR ADDITIONAL INFORMATION, PLEASE CONTACT-
Sarah Fitzgerald, RFH Press Release Writer
sfitzgerald@rumsonfairhaven.org or 732-842-1597 x. 277