Return to Headlines
RFH Student-Athletes Make College Commitments
FOR IMMEDIATE RELEASE--<<MONDAY, NOVEMBER 15, 2021>>
RFH Student-Athletes Make College Commitments
Twelve Rumson-Fair Haven student-athletes made their college choices official by signing "Letters of Intent" to continue their academic and athletic careers at colleges and universities on the East Coast and in the Midwest. Surrounded by their families, friends, coaches, teammates, teachers, and administrators, the athletes donned their new colors and celebrated their hard work both in the classroom and on the sports field. Charles Jones and Liam Murphy will both head south to continue their baseball careers in North Carolina and Virginia at Wake Forest University and Roanoke College, respectively. Rower Mary Ciardiello will stay close by, bringing her talents to the banks of the Raritan River at Rutgers University. Field hockey players Tyler Argilagos and Brennan Bazant will bring their sticks to Colgate University (Argilagos) in New York and Davidson College in North Carolina (Bazant). For lacrosse, Delaney Champeau and Noah Beacher will both take the field in Ohio at Kenyon College and the College of Wooster respectively. Thomas French will head to Babson University, Daniel Garvey to Stevens Institute of Technology and Philip Passalaqua will head to Haverford College to join their lacrosse teams as well. Samantha Cesario will bring her soccer skills to our nations' capital when she attends Catholic University in Washington D.C., and Sasha Herman will join the Raiders in New York at Colgate University on their tennis courts. These athletes will join countless others from RFH, both past and present, who have risen to new heights in the NCAA. Congratulations, Dawgs!
The complete list of athletes and their commitments:
Charles Jones-Wake Forest University, Baseball
Liam Murphy-Roanoke College, Baseball
Mary Ciardiello-Rutgers University, Rowing Crew
Tyler Argilagos-Colgate University, Field Hockey
Brennan Bazant-Davidson College, Field Hockey
Delaney Champeau-Kenyon College, Lacrosse
Noah Beacher-College of Wooster, Lacrosse
Thomas French-Babson University, Lacrosse
Daniel Garvey-Stevens Institute of Technology, Lacrosse
Philip Passalaqua-Haverford College, Lacrosse
Samantha Cesario-Catholic University, Soccer
Sasha Herman-Colgate University, Tennis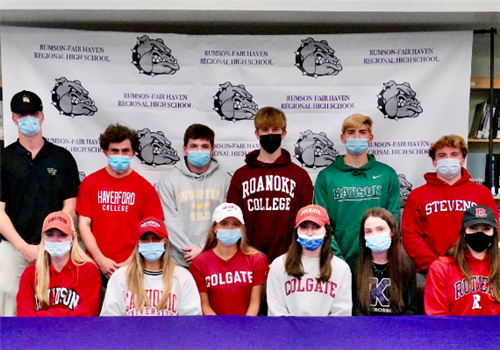 Student-athletes on National Signing Day (l to r-front row: Brennan Bazant, Samantha Cesario, Sasha Herman, Tyler Argilagos, Delaney Champeau, and Mary Ciardiello; l to r-back row: Charles Jones, Philip Passalaqua, Noah Beacher, Liam Murphy, Thomas French, and Daniel Garvey).
FOR ADDITIONAL INFORMATION, PLEASE CONTACT-
Sarah Fitzgerald, RFH Press Release Writer
sfitzgerald@rumsonfairhaven.org or 732-842-1597 x. 277