Return to Headlines
RFH Lacrosse Coach Begins 19th Season, Looking to Continue Legacy
FOR IMMEDIATE RELEASE--<<TUESDAY, MARCH 8th, 2022>>
RFH Lacrosse Coach Begins 19th Season, Looking to Continue Legacy
Rumson Fair Haven Regional High School's Girls Lacrosse Coach, Amy O'Keefe, will begin her 19th season coaching the Lady Bulldogs and looks to add to her record-shattering career! O'Keefe began coaching at RFH in the spring of 2004 and has never looked back. She'll enter into the 2022 spring season with a spectacular career coaching record of 307-69-2. Under her leadership and expertise, the Dawgs have secured twelve divisional championships, nine Shore Conference Championships, seven State Sectional Championships, two Group Championships and have made two appearances in the Tournament of Champions!
O'Keefe is a legend among the high school girls lacrosse community in New Jersey. She holds the Shore Conference Record, among all coaches of all sports, all-time, for her 127 game win streak versus Shore Conference opponents and was named the 50th best coach out of 150 Best Shore Conference Girls Lacrosse Coaches All-Time. O'Keefe earned Coach of the Year honors in 2008 & 2010 by the Asbury Park Press; in 2015 by the New Jersey State Interscholastic Athletic Association; and in 2016 by NJ.com. O'Keefe was also named by NJ.com to RFH's Mount Rushmore - Greatest of All Time - #4.
In her 19 years coaching at RFH, O'Keefe has coached over 400 student-athletes, has developed a program that has become consistently one of the best in the state, and has navigated uncertainty, ever-challenging, and motivating her team to stay positive through the COVID pandemic over the past two years. This week, O'Keefe looks to begin a season that feels more like "normal" and one that is just as fruitful for her athletes as she has come to expect. RFH Vice Principal of Athletics and Activities, Chris Lanzalotto reflects on O'Keefe's legacy, "Coach O'Keefe is an extraordinary coach who always puts her players first. She has been an incredible role model for younger coaches and exemplifies the qualities we look for in our coaching staff."
As she looks towards the upcoming season, O'Keefe said, "I cherish the opportunity I get to coach these amazing girls year after year. Every season, each team contributes something unique and special to the continued success and winning reputation they have all built and established over time. Their compassion, competitiveness, and will to work hard to fight to keep the fire alive and be the best they can be, inspires me and is something the entire community should be proud of. As we head into the upcoming season, I know the girls are amped up and ready to work! I am super excited to meet the freshmen, see where we are as a group, and what we can put together this year to have another successful season!! GO DAWGS!"
Come cheer on Coach O'Keefe and the Lady Bulldogs at their home opener, part of a double-header with Boys Lacrosse (vs. St. Joe's after the girls game), on March 30th at 5 pm against Rancocas Valley Regional High School on the turf.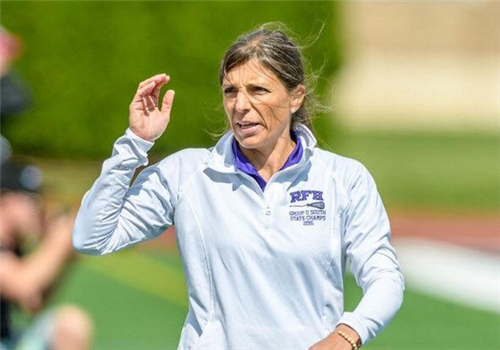 Coach Amy O'Keefe will begin the 19th season of her storied career as the head of the RFH Girls Lacrosse program this month.
FOR ADDITIONAL INFORMATION, PLEASE CONTACT-
Sarah Fitzgerald, RFH Press Release Writer
sfitzgerald@rumsonfairhaven.org or 732-842-1597 x. 277