Return to Headlines
RFH's Scott Venancio Runs to Raise Funds
RFH Student Runs to Raise Funds
Rumson Fair Haven Regional High School's Scott Venancio not only accomplished a major feat earlier this month but raised much-needed awareness and funds for an extremely worthwhile cause while doing so. Venancio, a Junior at RFH, completed the 3rd Annual Goggins' 4 x 4 x 48 Challenge on Sunday, March 6th, and raised thousands for charity. Goggins is a retired Navy Seal who for the past few years has embarked on an ultramarathon aimed at supporting charities across the world. Beginning on Friday, March 4th at 8 pm, runners from around the world joined Goggins' campaign and began their efforts to run 4 miles every 4 hours for 48 hours. After attempting the challenge unsuccessfully last year (Venancio completed an impressive 40 of the 48 miles) and raising $5,000 for St. Jude's Children's Hospital in honor of local Rumson resident, Dr. Edwin Gangemi, Venancio was determined to finish this year.
As Venancio amped up his training and the challenge was approaching, Venancio was devastated to learn of the unexpected passing of his family friend and Fair Haven resident, Nicholas Glassman. Venancio decided to dedicate his challenge to Nick with the blessing of the Glassman family and to raise funds for their cause, Johnny's Ambassadors, a non-partisan, non-profit, grass-roots alliance of individuals and organizations around the globe who educate parents and teens about the risks of today's high-THC marijuana on adolescent brain development, mental illness, and suicide. Venancio and his family used social media to publicize his efforts and to garner support.
Venancio posted updates to his social media throughout and completed the challenge on the RFH track, under the lights at Borden Stadium on Sunday evening surrounded by more than 100 of his friends, family, and community members, joined by his best friends, Steve Glassman, Nick's father, and his own dad, Mario Venancio, for his final 2 miles. While Venancio is elated at his physical accomplishment and shared that this will go down, "as one of the most important nights of his life", he is most excited, shocked, and humbled by the outpouring of support he received and the incredible $14,000 he was able to raise for such a worthy cause. Besides large donations from local community members, it was the importance of the message he was able to spread and the small donations made by teenagers that meant the most to him.
Venancio's accomplishment has inspired the entire school and local community and is a testament to his willpower and discipline. His unwavering perseverance, focus, and philanthropic commitment truly epitomize the "Bulldog Spirit" that lives within the halls of RFH and the hearts of every Dawg.
(pictures below)
11th grader Scott Venancio runs Goggins' 4x4x48 Challenge in honor of his family friend, Nicholas Glassman.
Steve Glassman, Nick's father, joined Scott Venancio for 16 out of the 48 miles he ran to raise money for Johnny's Ambassadors.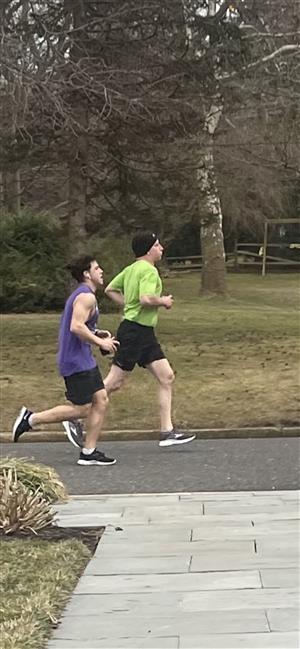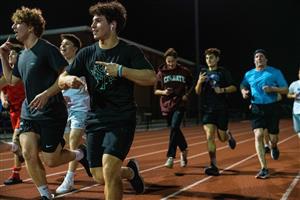 FOR ADDITIONAL INFORMATION, PLEASE CONTACT-
Sarah Fitzgerald, RFH Press Release Writer
sfitzgerald@rumsonfairhaven.org or 732-842-1597 x. 277