Return to Headlines
Tower Players Present Spamalot
RFH Tower Players Present Spamalot

The RFH Tower Players are thrilled to bring another exciting production to life this spring. The entire cast is eager to perform Spamalot, a musical spin on the cult classic Monty Python and the Holy Grail. Spamalot is a thrilling homage to the original movie which will delight both dedicated fans and newcomers alike. Featuring familiar tunes such as "Always Look on The Bright Side of Life'' and "Knights of The Round Table," this show will certainly have the audience singing in the aisles as they leave! Spamalot tells the story of King Arthur (Jackson Champeau) on his quest to find the Holy Grail. Along the way, he enlists an army of knights including the strangely flatulent Sir Bedevere (Roshan Sell), the dashingly handsome
Sir Galahad (Christian Stone), the homicidally brave Sir Lancelot (Evan Callas), and the not-quite-so-brave, Sir Robin (Chris Stypa). Together, with King Authur's faithful servant Patsy (Hailey Blum), this gang of goofballs speak to God, battle french taunters, and are even halted by a killer bunny! With the help of the belty and boisterous Lady of the Lake (Lainie Lombardo), these knights journey on their comical quest for the Grail which will leave
the audience chuckling the whole way through.

The Tower Players are thrilled to be working with an incredibly talented creative team\ this season. Returning advisors include KasiAnn Sweeney (Director), Matthew Leddin (Technical Director), Donna Battaglia (Choreographer), Amanda Gorfain (Musical Director),
and Catherine Cleary (Costume and Props Designer). The Tower Players are also thrilled to welcome Anthony Pruester (Assistant Director) and Sue Wankel (Play Production Coordinator) to the production team for their first RFH musical. Cast, crew, and advisors are overjoyed to get back on stage this spring season, as they prepare for another incredible production.

Spamalot is presented through a special arrangement with Theatrical Rights Worldwide: https://www.theatricalrights.com/. The show will run from March 24-26, 31, April 1, 2023. For tickets, please visit https://towerplayers.booktix.com/.

(pictures below)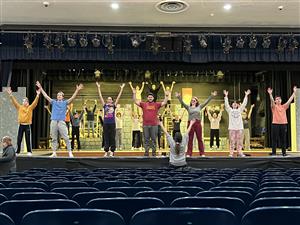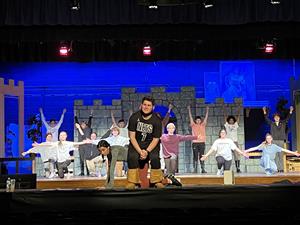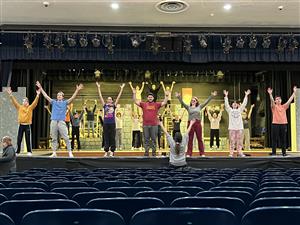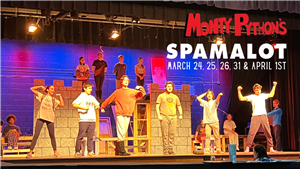 Members of the RFH Tower Players rehearse for their upcoming production of Spamalot.
FOR ADDITIONAL INFORMATION, PLEASE CONTACT
Sarah Fitzgerald, RFH Press Release Writer
sfitzgerald@rumsonfairhaven.org or 732-842-1597 x. 277