Return to Headlines
RFH Students Learn from Immersion in Spain and China
FOR IMMEDIATE RELEASE--<<TUESDAY, DECEMBER 17, 2019>>
RFH Students Learn from Immersion in Spain and China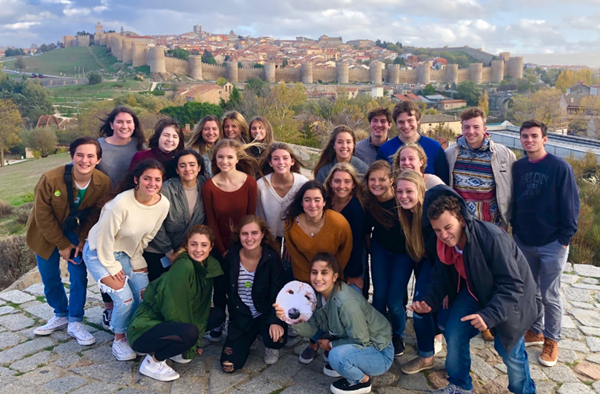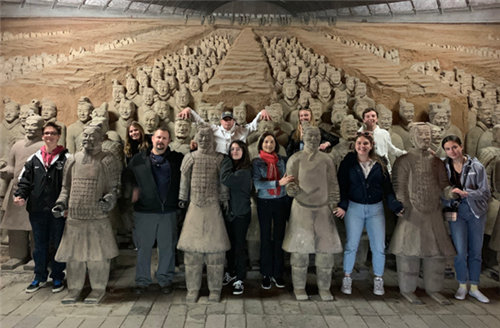 At the December 10 Board of Education Meeting, Rumson-Fair Haven Regional World Language students presented highlights from their recent trips overseas to Spain and China, where they had the opportunity to extend their learning beyond the walls of the classroom. Students of Spanish traveled to RFH's sister high school, Instituto Isabel de Castilla, in Ávila, Spain and students of Chinese traveled to RFH's sister school, Entel Foreign Language School, in Hangzhou, China.
Twenty four students in advanced levels of Spanish, accompanied by Spanish teachers, Daniella Goodarz, Christina Gauss, Anna Higgins, and Vice-Principal Stephen Sarles, spent eleven days in Spain touring five different cities. Upon arrival, students visited many tourist attractions in Madrid, rode the metro, sampled tapas, saw a flamenco show, and toured the nearby city of Toledo.
They spent the next six nights in Ávila with host families, all students of English from the Institute, to gain firsthand insight into the typical daily routines and customs of Spanish teenagers. They attended school during the day where they shadowed their host students, talked with students from all English classes after school, they went to music lessons, art classes, and soccer practice. They even visited with their "host" grandparents. RFH students were required to put their Spanish skills to the test because most of the host parents did not speak English. Throughout the week, the students went on two-day trips to Segovia and Salamanca, as well as walked sections of Ávila's main tourist attraction - the intact medieval city walls. After a heartfelt "hasta luego" to their newly found friends and family, the group ended the trip with their last night in Madrid.
Avery Fratto, an RFH junior in a Spanish 4 Honors course, said this about her experience, "By immersing yourself fully in the culture and language of a different country, you're forced to go outside of your comfort zone. The lessons that I received regarding both my speaking abilities and of Spanish culture are priceless and cannot be taught in the classroom."
Christina Gauss connected with Aida Márquez from Instituto Isabel de Castilla in 2015 and they worked together, along with World Language Supervisor, Seth Herman, to foster the sister school relationship. This was RFH's second trip to Ávila. Isabel de Castilla students will be visiting RFH for their third trip in February 2020. In addition to the trips, students from both schools' world language programs work together online throughout the school year on comparisons of cultural practices, products, and perspectives. Last year, they engaged in an academic study together on "Breaking Down Cultural Stereotypes - Am I more like paella or hamburgers?" and submitted their entry to The University of Salamanca's Academic Innovation and Research competition in which they won honorable mention!
6,386 miles away, eight students in advanced levels of Chinese classes, chaperoned by Chinese teacher, Rebecca McKenna, and World Language Supervisor, Seth Herman, spent eleven days in China touring four cities. This was the fourth time RFH students have visited the Entel Foreign Language School since the two schools forged a sister school relationship in 2011. Since 2017, students in RFH's Chinese language program have been participating in monthly online link classes with the students of Entel Foreign Language School; on this trip, the students' first stop was to meet their online friend from the Entel School face-to-face. RFH students stayed at the Entel dormitory for two nights and spent another two nights with Entel host families, who graciously took our students home for the weekend. During the homestay, RFH students needed to use Chinese to communicate with the family members of the host students. During the homestays, they visited various attractions in Hangzhou and fell in love with the local food and people. RFH students also attended classes at Entel and formed friendships with many other students that they met there. They even spoke in front of 1,500 Entel students and staff members in Chinese at the school's morning assembly! It was an emotional farewell when RFH students had to say goodbye to their friends at Entel. Some RFH students are already making plans to apply for a summer internship at the Entel Foreign Language School. Three RFH alumni worked as teaching assistants at Entel's summer camp this past summer.
After leaving Hangzhou, students then visited Shanghai, Xi'an, and Beijing. They toured famous sites like the TerraCotta Army and the Great Wall and had unforgettable experiences, such as having their portrait drawn by a local amateur artist while touring the Temple of Heaven grounds and mingling with a group of local high schoolers at the Summer Palace.
Jack Joyce, an RFH junior in the Chinese 4 Honors class reflected, "the opportunities the trip offered in terms of interacting with the Chinese people cannot be replicated in a book or online. The interactions I made throughout my trip, such as staying with the host family, creating new friendships at Entel school, and conversing with local students at the Summer Palace made me a more fluent and confident speaker."
Rebecca Wang McKenna, RFH Chinese language teacher, commented, "trips like this open our students' eyes and minds by allowing them to experience the real culture and people of China, and give our students opportunities to apply what they have learned in our classroom in the real world. It is truly life-changing. "
World Language supervisor, Seth Herman, said, "One of the wonderful aspects of these trips is that a large number of our world language students benefit from the cultural exchange. Many of our students have the opportunity to communicate online with students from our sister schools. Students from our French program also communicate online regularly with students from Haiti and Tunisia. These authentic experiences prepare our students to be productive citizens of a global community."
FOR ADDITIONAL INFORMATION, PLEASE CONTACT-
Sarah Fitzgerald, RFH Press Release Writer
sfitzgerald@rumsonfairhaven.org or 732-842-1597 x. 277