Return to Headlines

RFH Student-Athletes Make College Commitments
Eleven Rumson-Fair Haven student-athletes made their college choices official by signing Letters of Intent to continue their academic and athletic careers at a variety of prestigious colleges and universities on the East Coast for the upcoming school year. In what has become tradition, the athletes and their families donned their new colors and celebrated their hard work both in the classroom and on the sports field at RFH. While signings have been conducted in the school's Media Center in years past, student-athletes, their families and coaches gathered outside of RFH's main entrance to commemorate the event. Andrew Schmid will continue his baseball career on the diamond locally when he attends Monmouth University, basketball star Grace Munt will join the team at the College of Holy Cross in Massachusetts, and Lilly Frick will take her soccer skills to upstate New York where she will join the Raiders of Colgate University.. Lauren Andersen and Alison Williams will join the crew teams at Rutgers University and Villanova University, respectively. Three field hockey players will look to make their marks across the tri-state area: Sarah MacGillis will play for Georgetown University, Meadow Maguire will join the team at Cornell University and Helena Stoever will become a Pioneer at Sacred Heart University in Connecticut. Standouts, Chase Boyle (Loyola University Maryland), Mia James (Princeton University) and Ava Poupard (University at Albany) are also excited to continue their lacrosse careers at the next level. These athletes will join countless others from RFH that have and are currently making a name for themselves in the NCAA. Congratulations, Dawgs!

The list of athletes and their commitments:
Andrew Schmid-Monmouth University, Baseball
Grace Munt-College of the Holy Cross, Basketball
Lauren Andersen-Rutgers University, Crew
Alison Williams-Villanova University, Crew
Sarah MacGillis-Georgetown University, Field Hockey
Meadow Maguire-Cornell University, Field Hockey
Helena Stoever-Sacred Heart University, Field Hockey
Chase Boyle-Loyola University Maryland, Lacrosse
Mia James-Princeton University, Lacrosse
Ava Poupard, University at Albany, Lacrosse
Lilly Frick-Colgate University, Soccer
(picture below)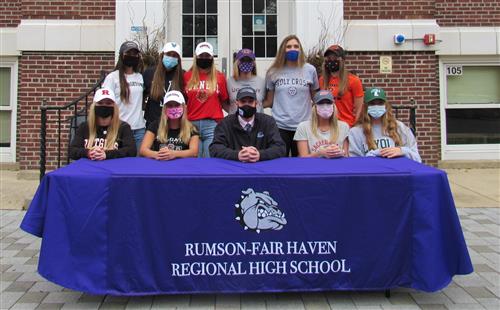 Student-athletes on National Signing Day.

FOR ADDITIONAL INFORMATION, PLEASE CONTACT-
Sarah Fitzgerald, RFH Press Release Writer
sfitzgerald@rumsonfairhaven.org or 732-842-1597 x. 277