Return to Headlines
Mrs. Pennetti RFH Educator of the Year
Stephanie Pennetti Named Rumson Fair Haven's Educator of the Year
Social Studies teacher, advisor, and mentor, Stephanie Pennetti, has been announced as Rumson Fair Haven Regional High School's "Educator of the Year." She was notified while teaching, in front of her students, on Friday, November 13th, by Principal Kevin Pfister, English and Social Studies Supervisor Sarah Fitzgerald, Vice Principal Stephen Sarles, World Language teacher, and last year's recipient of the honor, Christina Gauss and other school administrators. The "Educator of the Year" is selected annually by a small group of anonymous administrators, teachers, students, and parents who consider nominations from any members of the RFH school community. There is no one more deserving of this honor than Ms. Stephanie Pennetti, who has distinguished herself as an exemplary educator both in and out of the classroom.
A graduate with a degree in Political Science Education and Public Policy from the University of Delaware and currently in her seventh year of teaching at RFH, Pennetti works tirelessly in constant collaboration with her colleagues and supervisor, Sarah Fitzgerald, to elevate the quality of Social Studies instruction, awareness of current issues and trends and to build a meaningful and self-sustaining economics program. While she has taught Global Cultures and Civilizations, United States History I and AP United States History, Ms. Pennetti currently crafts economic lessons for learners of all levels and abilities in Introduction to Economics, AP Macroeconomics and AP Microeconomics that convey the relevance, importance and applicable nature of theories, policies and trends to our own society and the world. Ms. Pennetti's students describe her as a teacher who strives to make learning fun, truly cares about them and is always available for help and to support her students both academically and with more personal issues. As was echoed by many students who took the initiative to nominate Ms. Pennetti for this honor, "She always has a positive energy that is infectious throughout her classroom and inspires everyone in her classes to be a leader and take a role in the classroom...She sets such high expectations for her students but makes her classes so that those goals are achievable and is so proud of all the work her students do." Mrs. Sarah Fitzgerald shares, "Ms. Pennetti has been an integral member of the Social Studies Department and school since she began her teaching career here at RFH. She gives of her time and knowledge selflessly to students and colleagues, is always receptive to new ideas and exudes confidence and expertise in the classroom well beyond her years. The entire school community is lucky to have such a dedicated educator exemplifying the values of RFH day in and day out."
Aside from being an innovative and caring educator, Ms. Pennetti is an advisor to students and a mentor to her colleagues within and outside of the Social Studies department. Under her leadership of the Student Government Association and as a class advisor to the recently graduated Class of 2020, student leaders have expanded their voice in the school community, have raised money for many notable causes, have proposed and implemented changes to the operations of the school day, and have organized events to build school spirit and bring students together for fun! Ms. Pennetti also serves as a Girls Lacrosse coach and the advisor to the Mock Trial Team, and the Euro. and Fed. Challenge Teams, all of which have won state, regional and/or national accolades in their respective competitions over the last few years. As a mentor to her colleagues both in the Social Studies department and in other disciplines, Ms. Pennetti leads by example, sharing her knowledge of technology, educational strategies and theory at professional development workshops, by participating enthusiastically in interdisciplinary activities and on school leadership committees, as a Nearpod Certified and Common Sense Certified Educator and as a member of many professional organizations such as NextGen Personal Finance and the NJ Council for Economics Education.
Ms. Pennetti embodies everything that RFH stands for: she inspires her students to thrive, increases their knowledge, confidence, creativity, and compassion both inside and outside of the classroom and fosters positivity and Bulldog Pride each and every day that she walks the halls. She is an educator that others should seek to emulate in all aspects and Rumson Fair Haven High School couldn't be prouder to formally honor her achievements!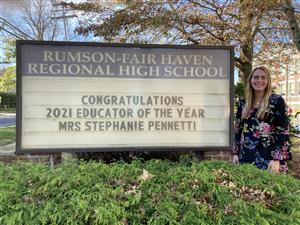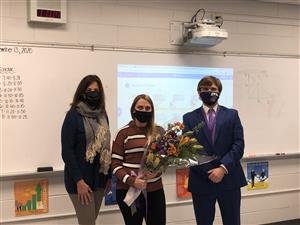 Stephanie Pennetti poses with Principal Kevin Pfister and former Teacher of the Year, Christina Gauss in her classroom when the honor was announced and outside of RFH in front of a sign announcing her as the 2021 Educator of the Year.
FOR ADDITIONAL INFORMATION, PLEASE CONTACT-
Sarah Fitzgerald, RFH Press Release Writer
sfitzgerald@rumsonfairhaven.org or 732-842-1597 x. 277