Return to Headlines
RFH Alumni, Education Foundation, and Community Members Honor Former George Giffin with Tree Planting Ceremony
FOR IMMEDIATE RELEASE--<<TUESDAY, OCTOBER 26th, 2021>>
RFH Alumni, Education Foundation, and Community Members Honor Former George Giffin with Tree Planting Ceremony
On Saturday, October 23, 2021, a tree planting event to honor former educator, mentor, and advisor George Giffin was held at Rumson Fair Haven Regional High School. To unveil the tree and memorial marker, members of the George Giffin Memorial Fund, friends and former students, RFH Education Committee members, school administrators, Board of Education members, and Mr. Giffin's family members gathered outside of the Math/Science Building on Forrest Avenue in Rumson. Marcia Giffin, George's wife and former English teacher at Knollwood School in Fair Haven, and Debra Giffin Schluter, George's daughter and member of the RFH Class of '79, removed the covering on the marker after Bill Davidson, Class of '73, and Anne Facendo, Interim Superintendent of RFH, briefly spoke.
George Giffin taught at RFH for 35 years from 1956 to 1991. He was the science department chair and founded the drill team. According to his former students, "He made Biology fun, taught gawky 16-year-olds how to properly shoot a basketball, established the highly successful RFH Drill Team, opened the door for all to learn the joys of dancing, became a golf instructor, helped with all student governments and activities, and gently encouraged everyone to find their passion in life." He was loved and admired by all who came into contact with him. His son David and daughter Debra both graduated from RFH.
The Steering Committee, made up of members from the RFH Class of 1973 (Bill Boyd, Bill Brinckerhoff, Ellen Duke Spears, Carol Culshaw Prince, Mauria Fitzgerald Ganther, Steve Farley, and Bill Davidson), partnered with the RFH Education Foundation to raise monies to create the George Giffin Memorial Fund (GGMF). To date, $82,000 has been raised. 196 friends and alumni from 32 graduating classes have generously made donations to the fund. The GGMF will help support grants to students, teachers, and administrators to fund those projects and interests for which Mr. Giffin had a passion. The partnership that formed between the Giffin committee and the RFH Education Foundation, led by Mary Pat Moriarty and Lanae Herman, made the Giffin Memorial Fund and tribute possible.
The granite memorial marker placed in front of the tree was donated by Uras Monuments of Middletown, NJ. The long leaf Linden tree was purchased through donations from Jeff Hugel and Bill Brinckerhoff, classmates from the RFH Class '73.
Special thanks go to Stephen Barrett, Commission Chair of the Rumson Shade Tree Commission for his help in recommending a tree and site location.
The fund will remain open on the website to receive future donations. The most recent donation received was a gift from the Class of 1970 following the celebration of their 50th Class Reunion. You can also visit the RFH Education Foundation's home page to see the other projects that the foundation members have brought to life at RFH including those upon which they are currently working.
Please refer to the RFH Foundation website to find more information, a tribute, and testimonials on Mr. Giffin.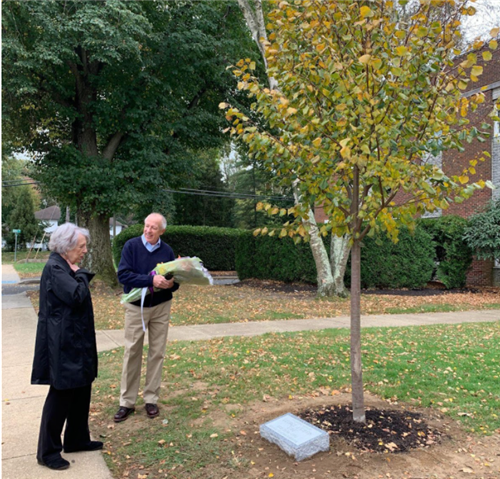 George Giffin's wife, Marcia, and Bill Davidson, member of the George Giffin Memorial Fund Steering Committee, at the unveiling of the tree and memorial marker.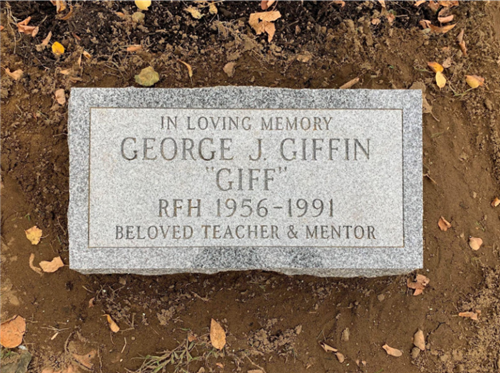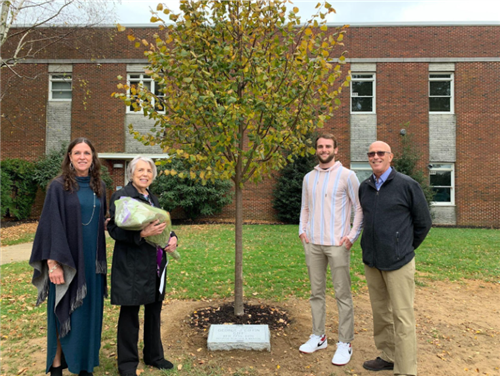 Members of Mr. Giffin's family, (left to right), his daughter Debora, his wife Marcia, grandson Mickey, and son-in-law Joseph were present at the tree planting ceremony to honor their husband's, father's, grandfather's legacy at RFH.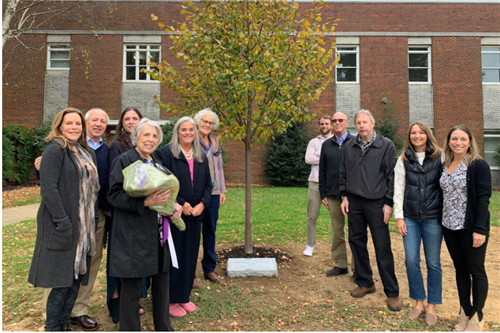 Attendees at Saturday's ceremony included former students, members of the GGMF Steering Committee from the Class of 1973, Mr. Giffin's family, and members of the RFH Education Foundation.
FOR ADDITIONAL INFORMATION, PLEASE CONTACT-
Sarah Fitzgerald, RFH Press Release Writer
sfitzgerald@rumsonfairhaven.org or 732-842-1597 x. 277