Return to Headlines
RFH Tower Players Present Legend of Sleepy Hollow
FOR IMMEDIATE RELEASE--<<MONDAY, NOVEMBER 1, 2021>>
RFH Tower Players Present Legend of Sleepy Hollow
The actors from Rumson Fair Haven Regional High School return to the indoor stage for the first time in nearly two years! After a year characterized by virtual and outdoor extravaganzas, the award-winning, student dramatic arts club, the Tower Players, is ready to return to performing on their beloved stage. RFH is bringing the "live" back to live theatre with their rendition of Legend of Sleepy Hollow, adapted by Vera Morris. Adhering to the spooky theme of the season, this group of actors will assume the roles of townspeople from Washington Irving's Sleepy Hollow, a Dutch farming community some 27 miles from New York in the early 1800s. This timeless tale centers on the town's newcomer, Ichabod Crane (Evan Callas), who is hired to be the new schoolmaster. Ichabod demonstrates an irresistible thirst for knowledge, desire for food, and obsession with Katrina Van Tassel (Ali Gagliardi). Katrina and Ichabod have to manage the ongoing, jealous mischief of Brom Bones (Matte Black), as Ichabod tries to become closer to Katrina and her wealth. Bones is not the only troublemaker in these parts; Ichabod also learns that spirits and ghosts are not hard to come by in this town. The story puts a twist on the classic myth of the Headless Horseman, adding in some comedic relief and keeping in the disturbing details of Sleepy Hollow alive. Will Ichabod get what he wants, or will he fall to the power of the Headless Horseman?
Not only are the cast members excited to be back on stage, but they are more than happy to pick up where they left off with some familiar faces. The Tower Players advisors include many RFH/Tower Players alumni as well as some brand new faces to the high school and its remarkable program. Those returning include KasiAnn Sweeney (Director), Susan Schuld (Assistant Director and Play Production Coordinator), Matthew Leddin (Technical Director), and Catherine Cleary (Costume and Props Designer). New to the team of advisors this season is choreographer Donna Battaglia.
Legend of Sleepy Hollow is presented through special arrangement with Pioneer Drama Service: https://www.pioneerdrama.com/. The show will run from November 19-21, 2021. For tickets, please visit https://towerplayers.booktix.com/.
Billing Credits: LEGEND OF SLEEPY HOLLOW; Written by Vera Morri; Based on the original story "The Legend of Sleepy Hollow" by Washington Irving.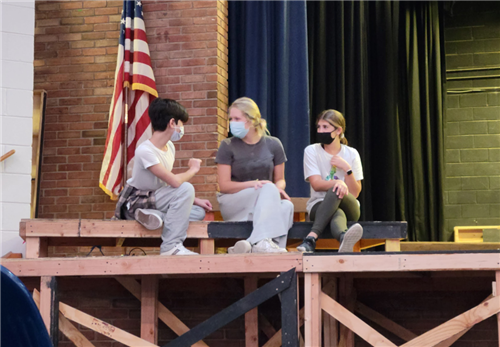 Members of the cast (left to right), Chris Stypa, Julia Coon and Katie Shapiro, rehearse in their roles as schoolchildren, under the direction of Mr. Ichabod Crane.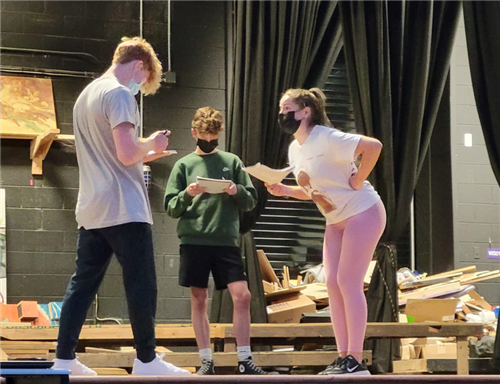 (left to right) Matte Black, Connor Olson, and Ali Gagliardi are all business during rehearsal.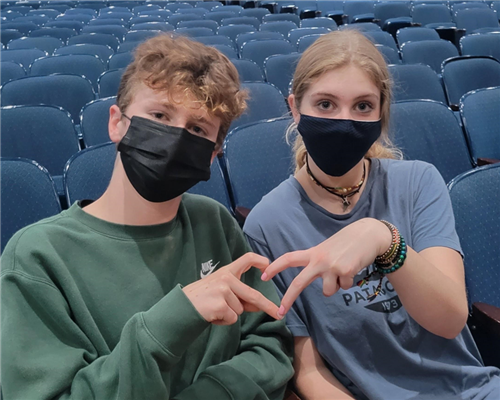 Connor Olson & Ava Bruno get a new view of the show.
FOR ADDITIONAL INFORMATION, PLEASE CONTACT-
Sarah Fitzgerald, RFH Press Release Writer
sfitzgerald@rumsonfairhaven.org or 732-842-1597 x. 277