Return to Headlines
RFH BOE Appoints New Superintendent
FOR IMMEDIATE RELEASE--<<Monday, July 18th, 2022>>
RFH Board of Education Appoints New Superintendent
The Rumson-Fair Haven Regional Board of Education is excited to announce the appointment and unanimous approval of Mr. Darren J. Groh as our next Superintendent of Schools effective July 1, 2022. The appointment was announced at the March 28, 2022 regular meeting of the RFH Board.
Mr. Groh is an inspiring leader and brings over two decades of educational experience as a teacher, assistant principal, and for the past 16 years the Principal of Chatham High School. As the building leader for Chatham High School, Mr. Groh has an invaluable amount of experience which includes, identifying academic areas in need of support, attracting, recruiting, and retaining talent as well as overseeing multiple million-dollar construction projects. Annie McGinty, RFH Board President remarked, "The Board was very pleased with the quality of candidates interested in leading RFH. What separated Mr. Groh was his success in leading a highly successful leadership team for so many years and his focus on all of our kids, from the highest achieving to those in need of the greatest support."
Mr. Groh was selected after an extensive search process that began over four months ago and included input through a stakeholder survey and small group sessions with parents and community members, students, staff members, and administrators. New Jersey School Boards Association (RFH's consultant in this process), received over 25 completed applications from highly accomplished candidates. The Board conducted nine initial interviews followed by several rounds of additional interviews. The interviews included questions shaped by the information gathered from the stakeholder survey and small group sessions. Throughout the process, Mr. Groh's passion for student-centered education, commitment to excellence, and growth mindset together with a team approach made him a perfect fit for RFH.
Mr. Groh shared, "I am looking forward to getting started. The RFH Strategic Plan truly compliments my previous experience. RFH is a great community and I am hoping to add to its continued success."
The Board of Education hosted a "Meet and Greet" in the RFH Library on Tuesday, May 31st for the RFH community to formally welcome Mr. Groh to the Rumson-Fair Haven Regional School District.
(pictures below)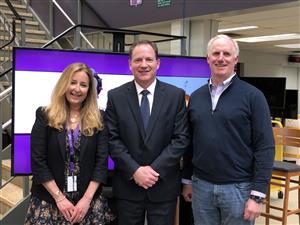 Mrs. Annie McGinty, Board of Education President and Mr. Joseph Kenney, Board of Education Vice-President, with Mr. Groh after his appointment on Monday, March 28th.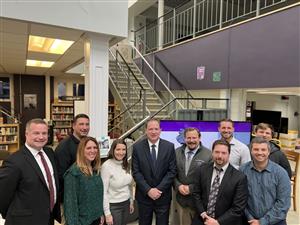 Mr. Groh and the RFH Leadership Team.
FOR ADDITIONAL INFORMATION, PLEASE CONTACT-
Sarah Fitzgerald, RFH Press Release Writer
sfitzgerald@rumsonfairhaven.org or 732-842-1597 x. 277