Return to Headlines
RFH Student-Student-Athletes Make College Commitments
FOR IMMEDIATE RELEASE--<<MONDAY, NOVEMBER 14th, 2022>>
RFH Student-Student-Athletes Make College Commitments
Fifteen Rumson-Fair Haven student-athletes made their college choices official by signing "Letters of Intent '' to continue their academic and athletic careers at colleges and universities across the country. Surrounded by their families, friends, coaches, teammates, teachers, and administrators, the athletes donned their new colors and celebrated their hard work both in the classroom and on the sports field. Julia Corsentino will take her talent to Marist College where she will look to make her mark on the court. Four baseball players, John Goodes, Jackson Hinchliffe, Reece Moroney, and Charlie Tallman, will bring their gloves to Rutgers University, University of Richmond, University of Rhode Island, and Sacred Heart University, respectively. Seven lacrosse players will join the scores of Dawgs before them in bringing the experience gained at RFH to the NCAA. Kayse Kiernan will join Moroney when she brings her stick to become at URI Ram. Matthew Bockelmann, Brown University, and Cole Cashion, Yale University, will join them in New England while Beau Kemler, Villanova, and Paige Cecil, Lafayette College, take to their respective fields in Pennsylvania. Mackenzie Kiernan will stay closer to home when she joins the Broncos of Rider University and Jacqueline Braceland will serve double duty, to the Black Knights and our country, when she takes to the lacrosse field at West Point Military Academy in New York. Two of RFH's most recent track standouts, John Connors and Julia Shanes will travel south as they bring their athleticism to High Point University and George Washington University, respectively while Patrick Simpson will look to make an impact on the track at Mount St. Mary's University in New York. These athletes will join countless others from RFH, both past and present, who have risen to new heights in the NCAA. Congratulations, Dawgs!
The complete list of athletes and their commitments:
Matthew Bockelmann-lacrosse, Brown University
Jacqueline Braceland-lacrosse, West Point Military Academy
Cole Cashion-lacrosse, Yale University
Paige Cecil-lacrosse, Lafayette College
John Connors-track, High Point University
Julia Corsentino-basketball, Marist College
John Goodes-baseball, Rutgers University
Jackson Hinchliffe-baseball, University of Richmond
Beau Kemler-lacrosse, Villanova University
Kayse Kiernan-lacrosse, University of Rhode Island
Mackenzie Kiernan-lacrosse, Rider University
Reece Moroney-baseball, University of Rhode Island
Julia Shanes-track, The George Washington University
Patrick Simpson-track, Mount St. Mary's University
Charlie Tallman-baseball, Sacred Heart University
(picture below)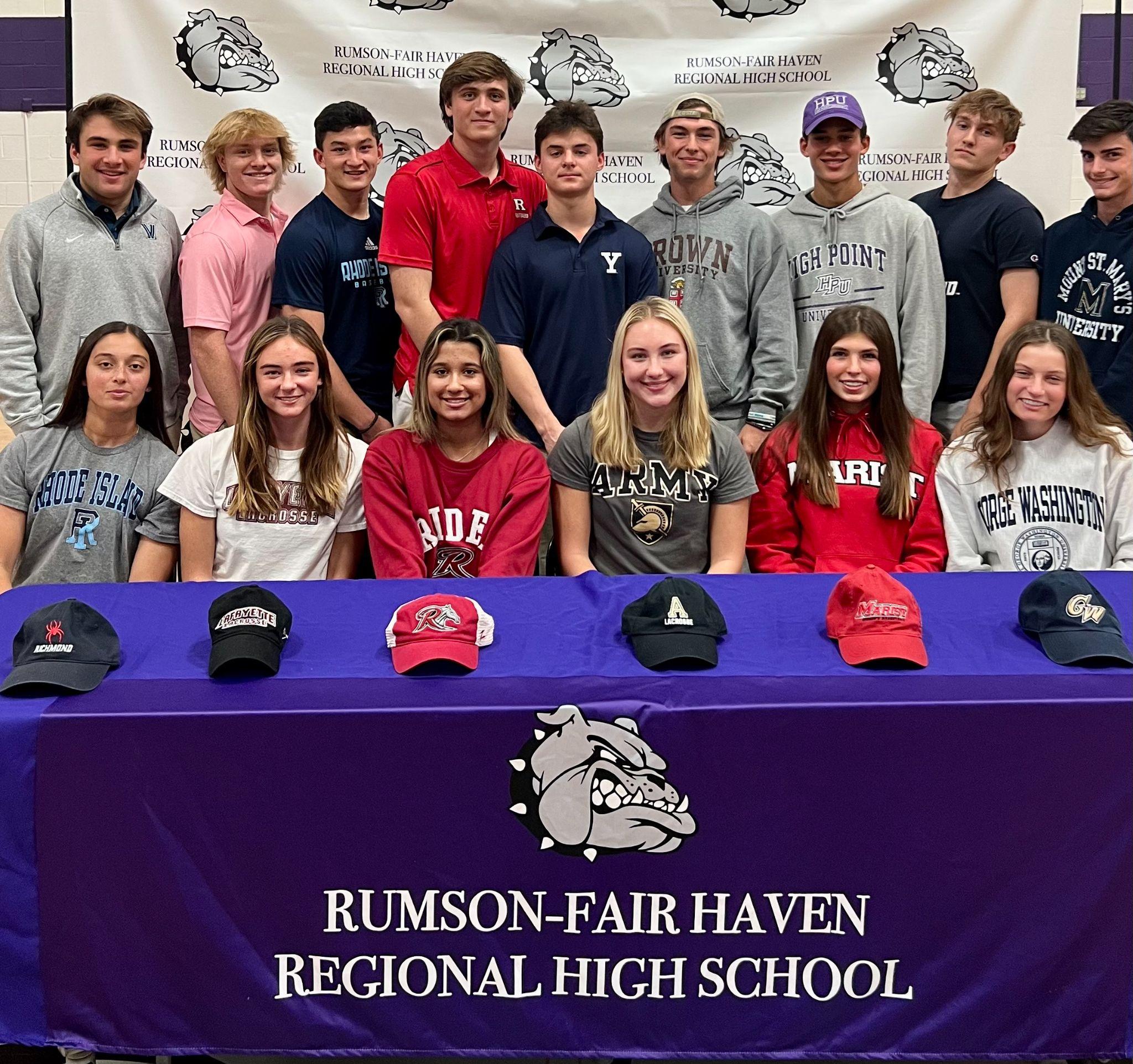 RFH athletes make college commitments on National Signing Day (Standing Left to Right:
Kemler, Tallman, Moroney, Goodes, Cashion, Bockelman, Connors, Hinchliffe, Simpson;
Sitting Left to Right: K. Kiernan, Cecil, M. Kiernan, Braceland, Corsentino, Shanes).
FOR ADDITIONAL INFORMATION, PLEASE CONTACT-
Sarah Fitzgerald, RFH Press Release Writer
sfitzgerald@rumsonfairhaven.org or 732-842-1597 x. 277