Return to Headlines
RFH Veteran and Mainstay, Sue Wankel, Honored by the DAANJ
FOR IMMEDIATE RELEASE--<<WEDNESDAY, MARCH 22, 2023>>
RFH Veteran and Mainstay, Sue Wankel, Honored by the DAANJ
Rumson Fair Haven Regional High School is proud to share that Ms. Sue Wankel has been honored as the recipient of the Administrative Assistant Award for Excellence (Central Jersey) by the Directors of Athletics Association of New Jersey. Wankel is a mainstay at RFH and a critical component of the Bulldog's athletics program year after year.
Wankel began her tenure at RFH in 1998 as an administrative assistant in the Attendance/Vice Principal's Office. She proudly served three vice principals during her time and was the welcome face and voice greeting students and parents each day for more than 15 years! In 2014, Wankel relocated to the Athletics Department Office to continue working closely with current Athletic Director, Chris Lanzalotto when he assumed that role. Over the past nine years, Wankel has worked tirelessly to ensure all athletic events and tasks at RFH run smoothly, including but not limited to scheduling all athletic transportation, maintaining all state-required paperwork for student-athletes and communicating with families regarding such, maintaining records on all RFH coaches, and handling day-to-day confirmation of athletic events and official/s assignments. Lanzalotto, who has worked directly with Wankel for the past 17 years, nominated Wankel for the prestigious honor and shares, "There is no one more reliable, or dependable than Sue. She is consistently the first person to volunteer her services at numerous extra-curricular fundraisers or other events sponsored by the district and if there is a large task to be completed within the school, you can always rely on her to pitch in and lend a helping hand. Not only is Sue a tremendous asset to the entire RFH community, but I personally am extremely fortunate to work with such a professional and dedicated person as Sue Wankel and to call her my friend." Outside of her work as an administrative assistant, Wankel devotes a great deal of time and energy to the RFH community, selling tickets at many sporting events, stepping in as scorekeeper when needed, serving as Site Supervisor for football games, and handling all NJSIAA Ticket responsibilities, chaperoning non-sport-related extracurriculars and serving as the Play Production Coordinator. She has become one of the most familiar faces in the halls and on the campus of RFH to staff, students, parents, and community members alike.
The DAANJ presents this award annually to recognize four honorees, one from each section (North I, North II, Central, and South), and in order to be considered, an administrative assistant must be nominated through a letter of recommendation from the athletic director or building principal and have demonstrated outstanding contributions to athletics at the local and school levels with a minimum of five years of experience. Wankel received her award this past week, at the annual DAANJ State Conference in Atlantic City surrounded by co-workers, family, and friends.
The RFH community counts itself lucky to have someone as loyal, professional, and spirited as Wankel in its ranks and is ecstatic to celebrate her accomplishments as such an honor is long overdue.
(pictures below)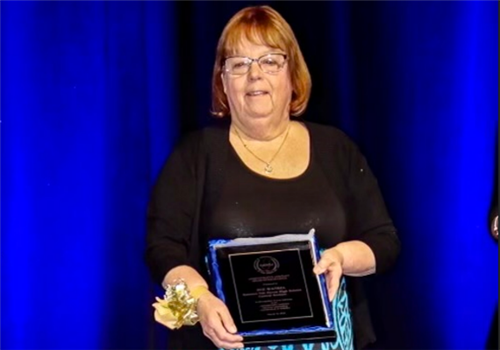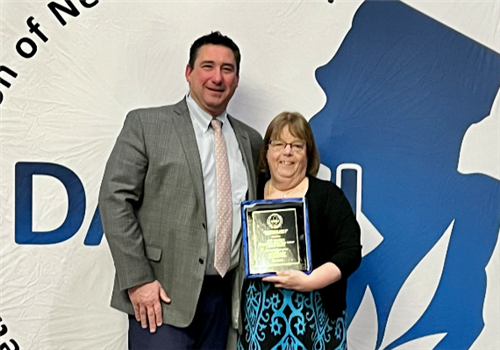 Ms. Sue Wankel (pictured with RFH Athletic Director Chris Lanzalotto) was honored last week by the Director of Athletics Association of NJ with the Central Jersey Administrative Assistant Award of Excellence.
FOR ADDITIONAL INFORMATION, PLEASE CONTACT-
Sarah Fitzgerald, RFH Press Release Writer
sfitzgerald@rumsonfairhaven.org or 732-842-1597 x. 277