Return to Headlines
RFH Announces the Educator of the Year
FOR IMMEDIATE RELEASE -- <<TUESDAY, MARCH 28, 2023>>
Matthew Leddin Named
Rumson-Fair Haven Regional High School's Educator of the Year
Social Studies teacher and advisor, Matthew Leddin, has been announced as Rumson-Fair Haven Regional High School's "Educator of the Year." He was notified while teaching, in front of his students by Principal Stephen Sarles, Assistant Principal Meredith Brow, Director of Curriculum and Instruction Sarah Fitzgerald, Supervisor of Social Studies and English Melissa Bryan, and other school administrators. The "Educator of the Year" is selected annually by a small group of anonymous administrators, teachers, students, a Board of Education member and parents who consider nominations from any members of the RFH school community. Mr. Leddin is most deserving of this honor, having distinguished himself as an exemplary educator both in and out of the classroom. Mr. Leddin is an important member of the RFH School Community.
A graduate with a degree in Social Studies Education from Rutgers University, and currently in his tenth year of teaching at RFH, Mr. Leddin works tirelessly in constant collaboration with his colleagues and supervisor, Melissa Bryan, to elevate the quality of Social Studies instruction for all students with extremely varied abilities and interests.
Mr. Leddin currently teaches AP World History, World History and the Current Issues classes. Mr. Leddin's excellence in teaching is validated by the scores the students earn on the AP exam and the relationships that he establishes with his students. Through the preparation that Mr. Leddin provides, RFH students routinely score higher than the State and National average on the AP World exams. As one RFH parent, who nominated Mr. Leddin, wrote "I have never seen my son more excited about learning as he was during Mr. Leddin's classes." Without a doubt, Mr. Leddin's enthusiasm in the classroom resonates with students and staff alike and he ignites curiosity and passion in a way that can't help but promote engagement, collaboration and student learning. Mr. Leddin's tireless devotion to his students shines through on a daily basis throughout the whole year.
Mr. Leddin's contributions to the school community extend beyond his classroom, beyond any academic year, and reach deeply into the lives and memories of his students and the RFH community. He is an indispensable member of our extra-curricular team as he is the Tech Crew advisor for the school plays. Without the countless hours that Mr. Leddin provides our school plays, the plays would not be as richly decorated nor visually appealing as they are currently. Mr. Leddin has done this so well that he was nominated by the Monmouth County Basie Award for Outstanding Set Design for the production of The Legend of Sleepy Hollow. Amongst other activities, Mr. Leddin also provides technology support to many evening events for our students and parents in our building as well. Mr. Leddin is truly a team player who knows that the interests of the school and students come first.
Mr. Leddin creates strong connections with a variety of different students in our building. Every student needs a teacher, whom they can rely on as a supportive adult, and Mr. Leddin is that for many students. Mr. Leddin is always supportive of our students' social and emotional health. Numerous students have stated that Mr. Leddin is their trusted adult in the building. Mr. Leddin truly approaches his relationships with students with equal care and compassion. These relationships were evident when Mr. Leddin was honored as Educator of the Year at a Board of Education meeting and current and former students and members of the community came out to support him. He makes a great, positive impact in the lives of so many students.
Mr. Leddin is an example for all teachers. He is enthusiastic and passionate about educating students. He is fully invested in the students not only in the classroom but in our extracurricular programs. He fosters a positive attitude to our students and staff, which fosters a positive environment and culture for the school in general. Mr. Leddin is a true asset to the Rumson Fair Haven Regional High School community in so many ways and we are extremely proud to honor his hard work, along with his contributions and accomplishments!
(pictures below)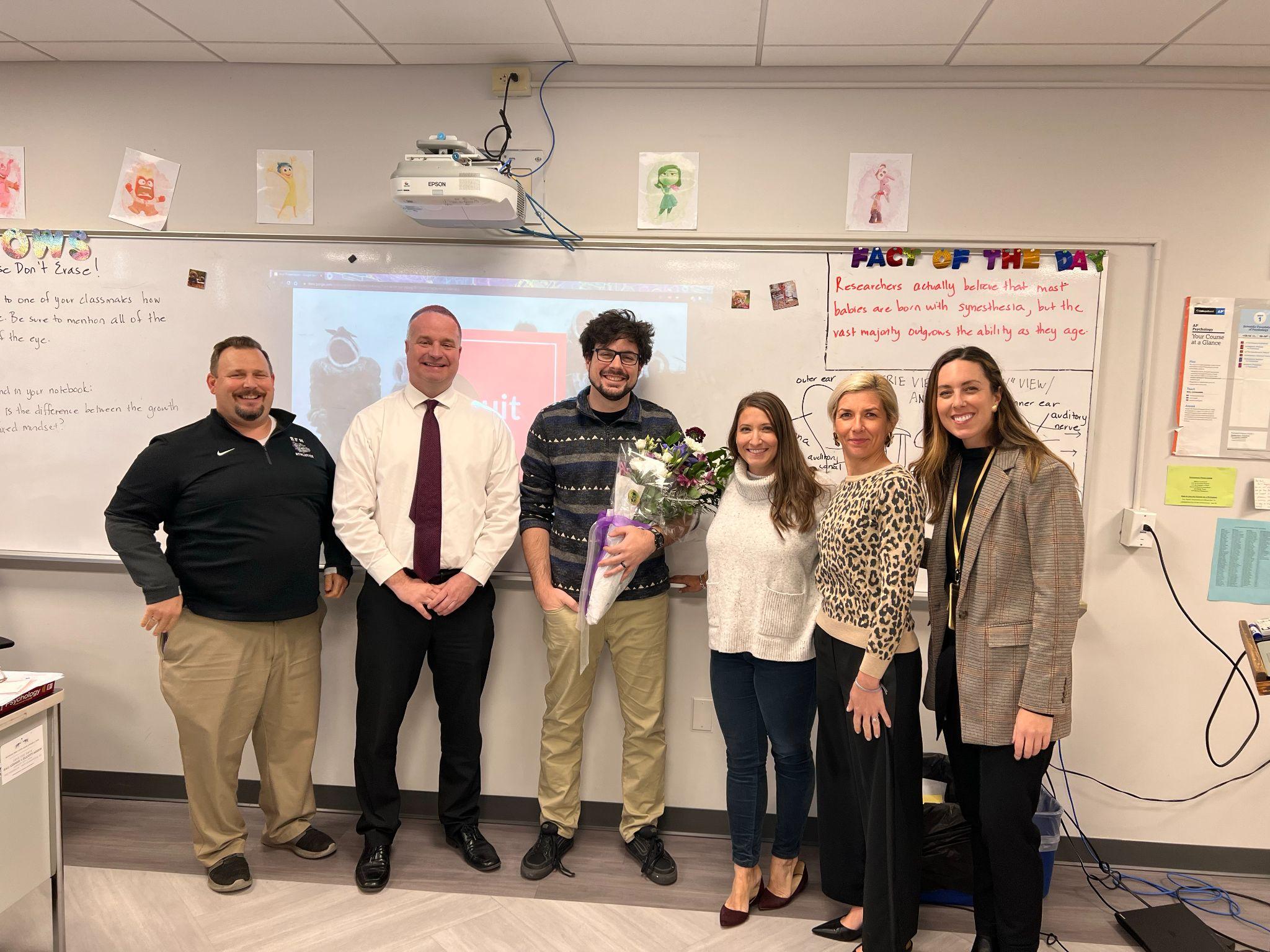 Mr. Matthew Leddin, RFH's 2023 Educator of the Year, is surrounded by administrators upon learning about the honor (pictured l-r: Seth Herman, Supervisor of World Languages, Physical Education/Health and Fine and Performing Arts, Stephen Sarles, RFH Principal, Matthew Leddin, Sarah Fitzgerald, Director of Curriculum and Instruction, Melissa Bryan, Supervisor of English and Social Studies, and Meredith Brow, RFH Assistant Principal.